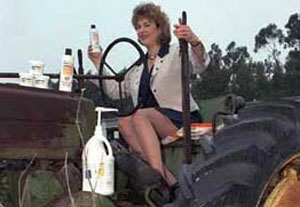 The Start of MM Manufacturing - What Fun!
The History of MM Manufacturing
I started MM Manufacturing in 1990, during an economic recession with very little money, but a lot of help from suppliers, friends and family. Why did I decide to go to the trouble of making a new product for hard-working hands and tools? Well, I used to sell industrial cleaners, but I felt they weren't good enough. I thought the world needed a good, powerful, worker- and earth-friendly product.
So I researched and experimented with such bio-based ingredients as corn, soy and palm compounds which I intuitively knew would work, replacing non-renewable petroleum ones popular at the time. My extensive cooking experience and common sense were no small part of the process either. Understanding that soap is a combination of fat and caustic, I decided healthier combinations could work just as well if not better to remove ground-in dirt and grime.
My first products, SkinSafer Barrier Cream and SavvySoap Hand and Brush, were developed to complement each other, and surpass the specifications and standards set by the state of California, military, high-voltage utility companies and the U.S.D.A. bio-based program demands. Later came ES1 Leak Detection Compound, a healthier, liquid gas leak detector concentrate. It is sold to and used by the largest gas utilities in the United States and their contractors.
Soon enough, in addition to industrial users, I began selling to artists who had discovered SavvySoap. They told me, "It's a fantastic brush cleaner and conditioner and eliminates the need for toxic solvents." What better motive could I have to keep moving forward?
The following are some of the tests and approvals MM Mfg. products have received.
Named a U.S.D.A. BioPreferred product for federal procurement by an independent third-party evaluation team
As per O.E.C.D. 301 formulations, our products are readily biodegradable
Passed field and clinical evaluations by the largest gas and electric companies in the U.S.
Received State of California Spec. 8520-4BS-001RB approval for non-petroleum cleaners
Passed dermatitis and tissue toxicity CASB198 tests.
Acknowledged packaging sustainability using lowered P.E.T. plastic and re-useable bottles.
Proven readily biodegradable and non-toxic to humans and aquatic life.
Approved ozone-safe and complies with California's VOC standards.

In a nutshell, MM Mfg. cares about people, their work and the environment. Our products are manufactured in California and the company is based at 101 The Embarcadero #130 San Francisco, CA 94105 U.S.A. I've stayed hands-on to make sure every one of our multi-purpose products lives up to my dream that began this wonderful journey.
Keeping the creative process healthy with environmentally-sound products